FLUTE TYPE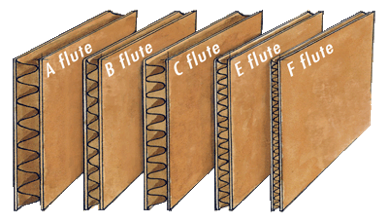 'Flute' is the corrugation between the internal and external lining papers of the board. The various flutes available offer different properties over each other such as Compression, Crush or Burst strength, Print-ability or storage space.
B Flute
Board thickness approximately 3mm.
The most widely used flute profile due to its all round compression strength, compactness, printability and cost effectiveness.
C Flute
Board thickness approximately 4mm.
A larger flute than 'B' offering greater compression strength, but can be more easily crushed.
BC Flute (double wall)
Board thickness approximately 7mm.
A combination of 'B' and 'C' flute is normally used when compression and stacking strength is important.